HYPOSO - Événement final à Delft, Pays-Bas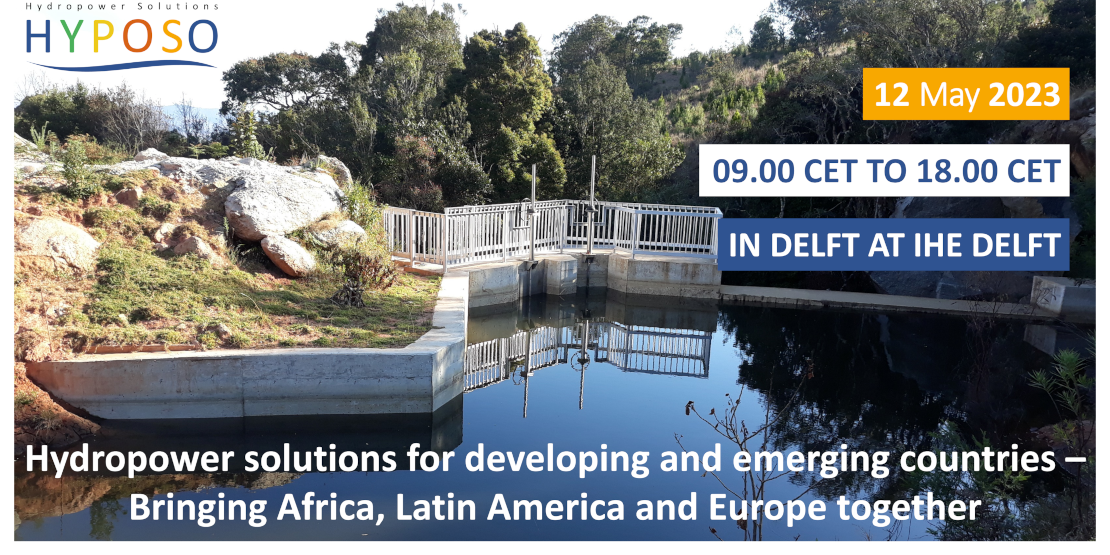 Après plus de trois ans, le projet HYPOSO se terminera en mai 2023 et les partenaires du projet ont le plaisir de vous inviter à l'événement final "Hydropower solutions for developing and emerging countries - Bringing Africa, Latin America and Europe together" pour présenter les résultats du projet et discuter des besoins pour l'avenir de la petite hydroélectricité en Europe, dans les pays cibles d'HYPOSO et dans le monde.
Cet événement est une excellente occasion non seulement de découvrir les résultats du projet HYPOSO, mais aussi de profiter de la présence d'une délégation internationale, composée de collègues des secteurs hydroélectriques nationaux des pays cibles d'HYPOSO en Afrique et en Amérique latine, qui arrivent à Delft après un voyage d'étude dans certains pays européens.
Le matin, des entretiens B2B seront organisés sur demande, et les acteurs européens intéressés peuvent nous informer s'ils souhaitent disposer d'un "micro" stand (à une table ou à une table haute) où ils pourront se présenter aux collègues internationaux dans le cadre d'une petite exposition.
Parallèlement, le comité consultatif d'HYPOSO se réunira dans les locaux de l'IHE Delft.
Cette première rencontre se poursuivra l'après-midi avec la conférence finale (voir l'ordre du jour ci-dessous, en anglais) et se terminera par un dîner de gala dans la soirée.
Nous vous invitons à cette rencontre internationale sur l'hydroélectricité et nous nous réjouissons des discussions intéressantes et fructueuses que nous aurons avec vous.
Vous pouvez vous inscrire à l'événement final ICI.
Lire l'agenda complet.
---